The Chinese company Bluboo produces enough good smartphones especially in the budget price segment. One such device is Bluboo Picasso that has 2 GB of RAM, microSD slot, good HD display, and even two flashes next to the rear and front cameras.
Manufacturer prepares new smartphone called Bluboo Maya. According to rumors it will be 5.5-inch phablet. New smartphone will focus on photo opportunities, so Bluboo Maya should get a good camera modules.
Design Bluboo Maya
Bluboo Maya will have the same design as its predecessor Bluboo Picasso: on the front panel is located 5.5-inch display, control keys migrate to the lower part of screen, and on the rear panel is placed a removable cover with a "diamond" 3D texture.
Release date and price Bluboo Maya
The exact release date Bluboo Maya is unknown, but we expect to see the smartphone in late June or early July. As for the price, we also don't have information from manufacturer, but if Bluboo Picasso costs around $ 60-70, then Bluboo Maya should receive affordable price tag.
Specifications Bluboo Maya
We already have some details about Chinese phablet Bluboo Maya.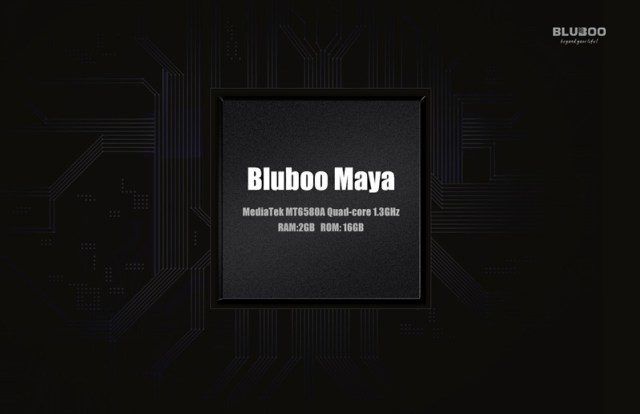 As a basis of performance Bluboo Maya will be a cheap 4-core processor MT6580A from MediaTek clocked at 1.3 GHz. New smartphone will have 2 Gb of RAM that is very good, and the flash memory is standard 16 GB. Furthermore, built-in storage can be increased by using a microSD memory card, as in the previous model Bluboo Picasso.
As for the other Specifications Bluboo Maya, the smartphone will be powered by a battery of 3000 mAh, and the usual micro USB port for charging and syncing. The diagonal screen will be 5.5 inches, and resolution is 1280 × 720 pixels.
Camera Bluboo Maya
As we mentioned earlier in this article, the smartphone Bluboo Maya will be focused on high-quality photos. It is reported that the company will use 13-megapixel module from Sony. The exact model is unknown, but we expect Sony IMX214.
On the front panel will be located no less interesting 8-MP camera. The company will present its business application «Beautiful», which will improve the software to take photos.
Features Bluboo Maya
Display 5.5-inch, HD, IPS
MT6580A processor 4-core frequency of 1.3 GHz
2 GB RAM
16 GB Flash memory
Slot for microSD memory card
3000 mAh battery
Dual SIM
Bluboo Maya will be presented in summer, probably before the end of June. The new model will join the low-end phones from the company Bluboo.
Review Bluboo Maya: release date, design and specifications
updated:
May 30, 2016
author: