The side edges, as the market of smartphones are concerned, are doomed to disappear. Asian manufacturers have taken note of this market trend, and new pictures leaked the Oppo R7 show us the way to take the Chinese mobile in the coming months. The Oppo R7 smartphone appears to be a mid-high range whose most striking visual feature is the absence of side edges of the screen.
 According to information known at this time, the Oppo R7 is a smartphone that could be presented in the coming weeks with a design whose thickness will be set in 4.85 mm. The images have leaked this time come from the Asian Weibo social network, and in them we can see that the screen Oppo R7 extends to the sides of the phone, resulting in an angle rather pronounced. The terminal appearing in photographs seems to be in a fairly advanced stage of development, so there is a good chance that the Oppo R7 is finally as you can see in these images.
 The Oppo R7 is a smartphone designed to succeed the Oppo R5 presented during the month of December last year 2014, and its technical specifications is scheduled to enter a MediaTek processor (MT6795 model) eight-core, 4G LTE connectivity ultra-fast internet, a 20.7-megapixel main camera and one of the latest versions of the Android operating system. Being a smartphone of Asian origin, property in which probably will seek to highlight this mobile is in the price, but we must not forget that his predecessor could buy on European territory by a figure stood at 400 euros.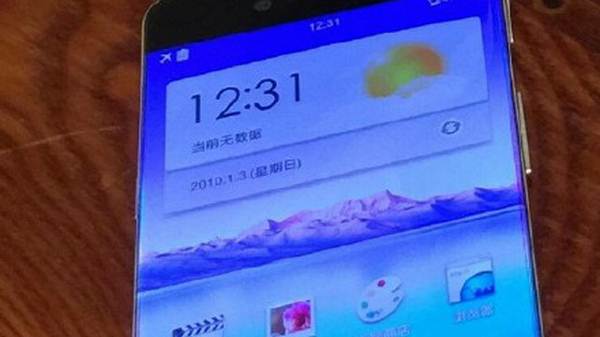 What features incorporated the Oppo R5? This terminal was based on a particularly slim design whose thickness was set to 4.9 mm, and within its shell hid a Qualcomm Snapdragon 615 eight-core processor, 2 gigabytes of RAM, 16 gigabytes of internal memory (with no possibility of extension to through an external memory card, and apparently the Oppo R7 keep this lack of microSD slot), a 13 megapixel main camera, Android OS version of Android 4.4.4 KitKat and a battery with 2000 mAh capacity. R5 Oppo screen had a size of 5.2 inches, AMOLED and was reaching a resolution of 1,920 x 1,080 pixels, and it is hoped that the new R7 maintain an identical screen size.
 At present, the exact date you will be presented the new Oppo R7 is unknown, although all agree that Asian media presentation should be just around the corner.
Oppo R7 new photos
updated:
April 13, 2015
author: