CEO OnePlus has repeatedly confirmed that a second smartphone would be launched before the end of the year. We then immediately thought of an OnePlus 2 Mini, or at least to a model offering more reasonable size than its big brother of 5.5 inches. For now, we still do not know the device's size, however, its characteristics have just been partially revealed by the tool from benchmark AnTuTu.
 Rather than offering a low-end version of its latest flagship, the company could launch a second smartphone rather interesting, if the characteristics set forth by this benchmark prove accurate. The program includes a definition screen Full HD 1080p which we do not yet know the format, a photo sensor 13 megapixels, 32 GB of storage and a 64 Bit octo core processor MediaTek MT6795T supported by 2GB of RAM.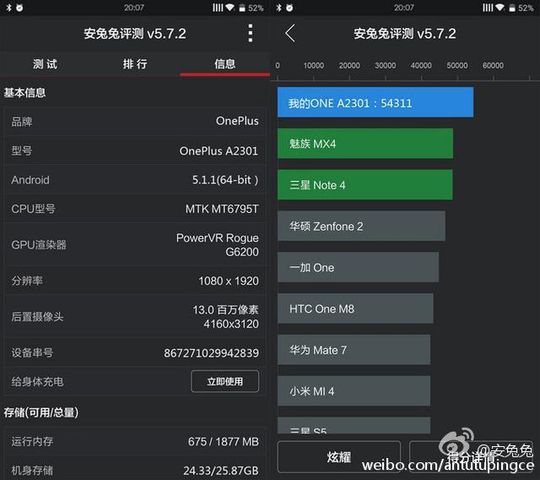 A processor designed for high-end devices, found elsewhere in the HTC One M9+ and allowing this potential OnePlus 2 Mini, here referenced under model number A2301, getting a score of 54311 points the AnTuTu benchmark tool. A score not necessarily spectacular but is more akin to that of a luxury than a mid-range device and outperforms flagship stores last year as Xiaomi Mi4, the Galaxy Note 4 and the HTC One M8
 Earlier this week, the first reports of alleged OnePlus 2 Mini surfaced. Today it is the turn of its technical characteristics that are far from cheap. Its positioning is somewhat reminiscent of that of Sony with its "Compact" although in the case of OnePlus the "Mini" version does not propose exactly the same specifications as the flagship model. On the other hand, it avoids the Snapdragon 810. In addition, knowing the habits of society, the price could also be interesting.
OnePlus 2 Mini: the first test shows interesting characteristics
updated:
September 23, 2015
author: