Meizu 'NIUX' as contemplated Meizu Pro 5, the first of the new high-end product line of Chinese manufacturer, coming soon to the market with the chipset Exynos 7420. Yes, the same SoC used by Samsung in their latest releases, including the Galaxy Note 5. The chipset comes with octa-core processor consists of four cores Cortex-A57 running at 2.1 GHz together with four cores Cortex-A53 at 1.5 GHz and GPU Mali-T760 to deliver good graphics performance .
 One of the great advantages of the Meizu Pro 5 is to come with Full HD screen, something that was common in flagships, but that gave way to the new Quad HD resolution pattern. As much as many Users Find unnecessary to have so many pixels in a cell, the manufacturers claim that this higher resolution delivers a sharper picture and more detail than was found previously in the market.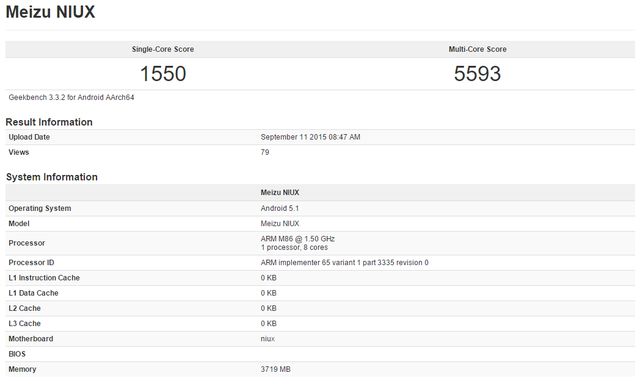 When it was revealed that the novelty will come with this chipset and screen with lower resolution than found in the Galaxy line flagship, expected already see the model's performance was superior to Samsung devices, since the GPU will have less work to deal with smaller amount of pixels on the screen. However, it seems that the performance gain is not just linked to it. According to the test revealed below, the Meizu Pro 5 achieves highest score in GeenBench benchmark of what we used to do with the Exynos 7420.
 This is tested only raw CPU performance and speed of the RAM, which in this case consists of 4 GB. As can be seen when only one Cortex-A57 core is in use, the score reaches incredible 1,550 points – going beyond 1400 we see on models from Samsung, including the Galaxy Note 5 announced recently. When all cores are tested once again, we see the chipset offer better performance in the hands of Meizu, a total of 5,593 points.
 The Meizu Pro 5, which will be officially unveiled on September 23, will hit the market with 3GB or 4GB of RAM, chipset Samsung Exynos 7420, GPU Mali-T760 (but was not told the amount of graphics cores), main camera 21 megapixel front and 5 megapixels, 32 GB of memory for internal storage and Android 5.1 as operating system, modified by the very interface of Chinese brand, Flyme OS.
 We do not have a date when the news hit the market, nor which countries should receive the Meizu Pro 5. During the event which takes place later this month, the Chinese manufacturer shall pass such information, in addition to the new price that is expected to bring a price more competitive, especially against Samsung that offers the same chipset, but that just charging a high price for it.
Meizu Pro 5 on GeekBench with a score higher than the Samsung Galaxy Note 5
updated:
September 14, 2015
author: