If you are looking for a smartphone safe able to keep your data and do not break your piggy bank so far, the UMI Iron Pro probably interest you. Sold less than € 200, it is equipped with a fingerprint reader and a retinal scanner.
 Chinese automakers are not necessarily the best smartphones but at least, it is generally for money. We often talk about Xiaomi since it is the best known, but his countrymen are not left out, as UMI. By mid-year, it launched the Iron, a smartphone with retinal and fingerprint readers for about 180 dollars. The recipe has been improved further with Iron Pro, while the price does not move.
 The differences are many. In fact, we have not even identified in only one but it is still important. It's a fingerprint reader, digital this time, in addition to the back to assist the retinal scanner in data protection. A visibly expensive point UMI since this simply his Iron Pro as the most secure smartphone in the world.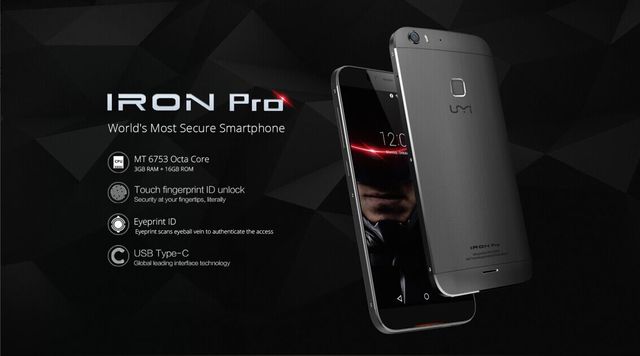 We doubt it actually make the weight against the BlackPhone at Turing Phone or other models of the kind that bring more advanced encryption tools but it is certainly one of the most secure in its price category, and this while offering in addition a metal frame and interesting technical features.
 It is therefore the same as the Iron released this summer, but they are still very current: IPS Full HD screen of 5.5 inches, octa-core MT6753 chipset with 4G modem, 3GB of RAM, 16 GB of memory Internal stretch, cameras 13 and 8 megapixels and a 3100 mAh battery.
 The UMI Iron Pro is sold $ 180.
UMI Iron Pro: fingerprint reader and retinal scanner within 200 €
updated:
October 30, 2015
author: