Everything is almost ready for ZTE we present next March 26 to its new flagship, the Nubia Z9, which come together to Nubia Z9 Max. Just a few days but still getting leaks, reveal new details of possible features that incorporate the new device. Latest arrive in pictures and show a very similar to photos leaked last March 11 design. In them we see a device with slightly rounded edges and have a look similar to Huawei Mate 7.
 The terminal also presumes to be quite small, even compared to the iPhone 6. The device Apple has just 6.9mm thick, so judging from the filtered images, the new ZTE Nubia Z9 have a profile set similar (it seems even thinner). In the back we see a large sensor, which probably corresponds to the fingerprint sensor rumored. In addition, the camera and LED flash beside him, appears. Following in the rear of the terminal, in the center is the logo of Nubia and slightly below the speaker grille.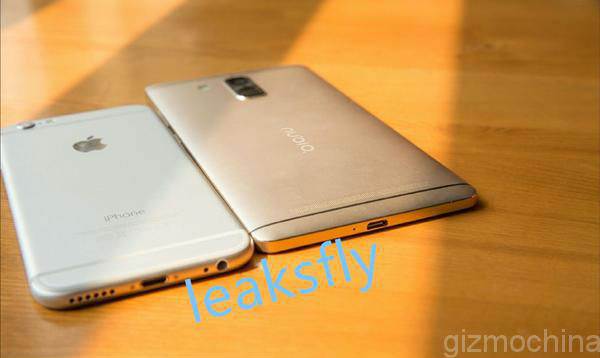 Looking at the front, we ran into some pretty thin bezels, but not as much as we saw in the pictures of the previous leaks. The top, just above the screen is extremely sharp, but the bottom is somewhat higher, leaving room for a home, very similar to what Apple has in their iPhones button. In general we see a well assembled device, built with metallic materials and with a very similar chassis riding the HTC One M9.
 With regard to its internal features, the latest data that we ensure that the ZTE Nubia Z9 equip a screen of 5.2 inch QHD resolution. The screen would rise in the model Nubia Z9 Max until 5.5 inches. This device will be another that uses Qualcomm Snapdragon 810 processor. It is a SoC that has presented some problems of overheating, as we have seen in some terminals, including the HTC One M9. The chip would be accompanied by a RAM of 3GB, enough to move with ease the vast majority of applications we install on your phone.
 As we see in the images, the sensor will not be what it says little. The new high-end ZTE ride a main camera with 16 megapixel sensor, much like the view on the Samsung Galaxy S6. The secondary camera would have eight megapixel sensors, a figure that will be appreciated by those regulars to selfies. Clearly, their characteristics and design, the new terminal placed in a privileged place ZTE, ready to be able to cope with energy with some of the latest gadgets we have met over these weeks. It will be on March 26 when we can inform all its benefits and see if it comes accompanied by a larger version.
There are new pictures of ZTE Nubia Z9
updated:
March 17, 2015
author: