According to the CEO LeTV, many users find it convenient smartphone, which can be used with one hand, must have a display 4,7-5,3 inches, when, for example, 5.5-inch iPhone 6 Plus is already too big. But it does not necessarily equip a large display smartphone while doing another huge body.

On the market there are plenty of such examples, such as 5.9-inch Huawei Mate 7 as the average size of 5.5-inch smartphone. In general, the CEO LeTV hints that their novelty will receive a large display and yet remain comfortable. Well, in confirmation of this look at the teaser smartphone LeTV, this has virtually no side frames, and in the top of the Off-screen area is minimal.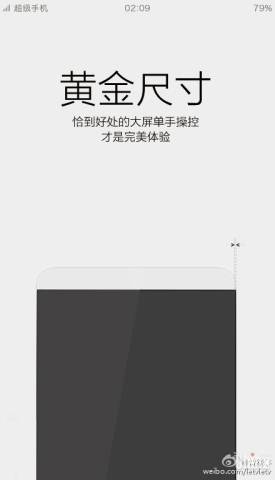 According to rumors, the smartphone LeTV premiere in March may be even a few novelties. Recall about a month ago LeTV introduced its own mobile OS based on Android, and not only for smartphones and tablets, but also for cars.
In the smartphone LeTV will large display, but convenient size
updated:
February 9, 2015
author: