Last year, the Chinese manufacturer Pipo showed the concept mini-PC called X8. The device was a mini-PC, which combines powerful hardware and touch screen.  It seems that such devices have a fairly high demand, as the company released a new version of its hybrid device Pipo X9S.
Today, the company introduced the successor Pipo X9S with better hardware equipment.
Pipo X9S mini desktop has 8.9 inch touchscreen display with a resolution 1920×1200 pixels. The special feature of X9S is that the device is not a tablet, but rather PC for the desk. Mini desktop has little angled position of the screen which makes it easy to read. However, we think that built-in display is better to use as second screen and connect larger external monitor to use as the main.
Pipo X9S received a significant upgrade of equipment. The main improvement is processor. Now mini-PC uses new Intel Atom Z8300 x5 "Cherry Trail", instead of old Intel Bay Trail. Furthermore, the device has a more powerful graphics unit on board.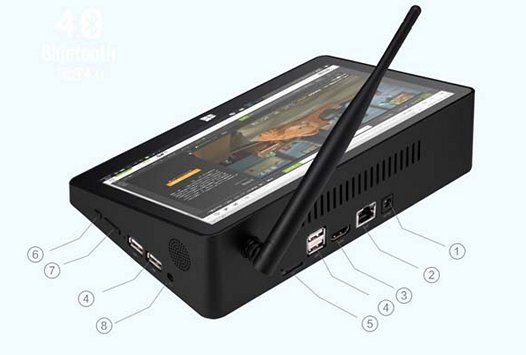 New Pipo X9S comes with 4GB of RAM and 64GB of flash memory – a doubling compared to the previous model. Actually, according to Intel, processor Z8300 supports only 2GB of RAM, but Chinese manufacturer was able to increase to 4GB. In fact, it is good news for users because 2GB is not enough for daily work of Windows 10.
Pipo upgraded its Mini-PC even with HDMI output, Ethernet port, 4 ports USB 2.0, microSD card reader and built-in speakers. Unfortunately, you'll have to forget about USB 3.0 port, from which the company refused because of the expensive price. However N-Fi and Bluetooth 4.0 are available again.
Pipo X9S runs on operating system Windows 10. You can buy Pipo X9S at Chinese stores that specialize in worldwide shipping. Price of the device is about $200.
Pipo X9S: Mini-PC with touch screen, new Atom SoC and 4GB RAM
updated:
January 23, 2016
author: