The world famous manufacturer of mobile devices from China, company Oppo officially unveiled its new Android smartphone, which was named OPPO F1 Plus.
Smartphone will be the next representative of new line-up, dedicated to lovers of mobile photos and, in particular, selfie-photos. As you can see from the name, Oppo F1 Plus is an improved version of smartphone Oppo F1 that was presented earlier.
Specifications OPPO F1 Plus
What has been improved? At first, OPPO F1 Plus got bigger screen with higher (Full HD) resolution: 5.5-inches and 1080 × 1920 pixels, as well as more RAM, which rose from 3GB to 4GB.
In addition, the manufacturer promises enhanced features of front camera, but it is not clear what is meant by the manufacturer, because resolution (8 megapixels), or aperture (f/2.0) did not change. Perhaps smartphone will have new camera software.
The rest of specifications is the same as the "basic" model: an eight-core processor Qualcomm Snapdragon 616 with clock speed of 1.7GHz and graphics accelerator Adreno 405, 16GB of internal flash memory, which if necessary can be expanded with a hybrid slot MicroSD memory card and Dual SIM (2 x SIM 1 or SIM + 1 Micro SD), 13-megapixel main camera with aperture f/2.2, LTE modem and operating system ColorOS, which is based on Android 5.1 Lollipop.
The battery capacity of OPPO F1 Plus is unknown, however, it is said that new smartphone will have more powerful battery than 2500 mAh battery, which provides Oppo F1. Obviously, OPPO F1 Plus should have a more powerful battery, because the screen has been increased, which means that power consumption has also increased.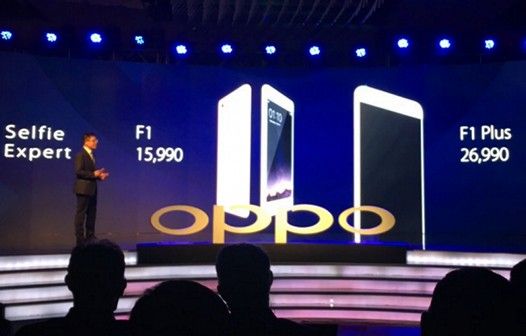 Price OPPO F1 Plus
As for the price Oppo F1 Plus, it is already known that in India, where the smartphone will go on sale soon, it can be bought for 26.990 Indian rupees, equivalent to about $396.
Oppo F1 Plus: selfie smartphone with 4GB RAM
updated:
January 29, 2016
author: