The Lenovo IdeaPad 100 is a single laptop in the catalog of the brand. It is aimed at those consumers with basic needs such as surfing the Internet, writing texts and managing multimedia content,. The casing is finished in black ebony, and the design is quite classic. It provides the essential functions that are needed today in exchange for an attractive price. The product is marketed in two screen sizes: 15 or 14 inches. The smallest weighs 1.9 kilos, while the other reaches 2.3 kilos. Both are quite narrow, as closed are about two centimeters thick. However, the screen resolution is the same: 1,366 by 768 pixels (HD). This is an LCD display with LED backlight with a brightness of 200 candelas per square meter.
This machine also incorporates a full QWERTY keyboard, shares space with a large touchpad, though at the top left enough space to rest your wrists. Just above the screen is the webcam with microphone, which is 0.3 megapixels. Within the housing a small mono speaker with an output power of 1.5 watts audio hides. Anyway, this team also includes a headphone output with stereo minijack connector (3.5 mm); the connection can also function as input for an external microphone.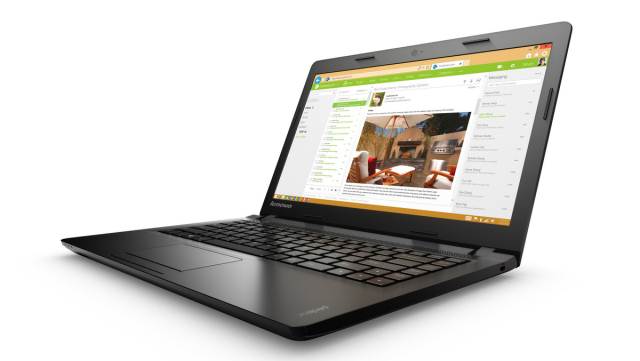 Between processors, the buyer can choose an Intel BayTrail-M N3540, and integrated graphics card is an Intel Graphics. The board installed in the Lenovo IdeaPad 100 supports up to 8 GB of RAM type DDR3L. There are two storage options. The first is a hard disk, which can have a capacity of 500 GB. The other is a solid state drive (SSD) of 128 GB. This comes complete with a memory card reader 4 in 1. In terms of connectivity, has a HDMI digital video output for watching videos on your Full HD television, for example. To this we must add a USB 3.0 and a USB 2.0 port. In communication capabilities, it has version Bluetooth 4.0, which is the latest. It also integrates Wi-Fi compatible with 802.11b / g / n specifications. Besides, the Internet and other networks can be performed using a cable punch to the Ethernet port.
The dimensions of the model with 15-inch screen are 378 by 265 and 22.6 millimeters. Meanwhile, the 14-inch model measures 340 by 237.8 and 20.2 millimeters. The rechargeable lithium-ion battery provides a battery life of four hours maximum. It is equipped with a Kensington lock to prevent theft MiniSaver. In mid-June, the Lenovo ideapad 100 will begin to be available in stores at a retail price of 300 euros for the model with 15-inch screen and 280 euros for the 14 inches.
Lenovo IdeaPad 100 – new entry-level laptop
updated:
May 27, 2015
author: