The Hisense King Kong LTE is a different smartphone. A computer instead of looking increasingly slim design is committed to a robust format that will help us better protect the terminal from bumps and drops. Do not use it with kid gloves, as stated in the press release Hisense. Apart from the unique design of this model, in its bowels are compatible with 4G networks, a quad-core processor or a panel of 5 inches with HD resolution of 1,280 x 720 pixels. Currently do not have data on price and landing is scheduled to market throughout the second quarter of this year. We tell you all the details that have been revealed.
 Undoubtedly, the major attraction of this model lies in its design. Hisense has chosen to follow a different path. And is that without being a model specifically aimed at the professional segment, Hisense King Kong LTE is designed to withstand the everyday accidents everyday. Whether one of hundreds of strokes often suffer our equipment or tens of falls experienced along it's (sometimes shorter for the same reason) life. This model is more resistant to these eventualities and also against the effect of dust and water. Sure to be seen how much will mark both thickness and weight, a mystery to be solved next week at the Mobile World Congress in Barcelona. What we do know is that this mobile bet on an IPS panel 5 inch HD resolution of 1,280 x 720 pixels. Two points that have become standard in many mid-range mobile markets and offer a level of detail of 294 dots per inch. Indeed, the use of IPS technology favors viewing angles up to 178 degrees both horizontally and vertically.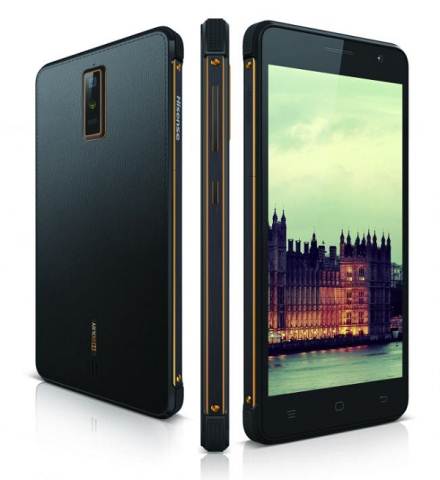 Another detail that is known is the use of a processor with four cores and a power of 1.2 GHz per core. A chip that is not very powerful but rather should we run most apps and games from the Android platform. Speaking of the system, Hisense King Kong LTE commitment to Android platform 4.4 KitKat, one that has been optimized for teams somewhat limited technically capable of running processes menus and agile version. In addition, the company has sought to highlight the inclusion of itself as antivirus software to protect the device from any threat.
To store our we have an internal memory of 8 GB files. We also noticed the use of an eight-megapixel rear camera with LED flash and a front camera of 2 megapixels for selfies. The latest details we know so far is the presence of speakers with Dolby that offer us a good experience when watching videos or listening to music and using a powerful battery of 3,000 milliamps that promises much war. The Hisense King Kong LTE officially is presented next week at MWC. Its official launch is expected in the second quarter of this year.
Hisense King Kong LTE rugged smartphone with 4G connectivity
updated:
February 27, 2015
author: