Asus and Google just to debut a new laptop with Chrome OS operating system. Is Asus Chromebook Flip C100, a hybrid between laptop and tablet computer. All machine chassis is metallic, and the material chosen is aluminum. Product managers brand have opted for this metal, due to its properties of durability, but also for its lightness. It is built on a single piece of metal. It is a lightweight computer that looks brushed aluminum around the outside of the housing having rounded corners. Furthermore it is really ultrathin, since only measuring 15 millimeters thick (without disassembling closed). The switch and volume control buttons are located on one side.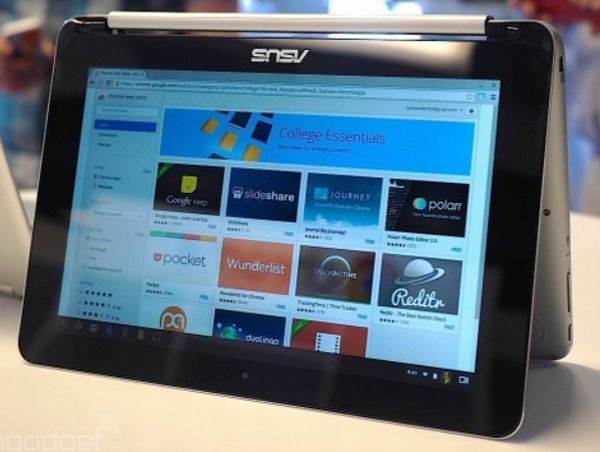 The screen is touch, is surrounded by a black frame. Overall, this is a very elegant design while functional. The hinges that connect the keyboard to the screen can rotate 360 degrees, allowing you to place it in different positions. It can be converted into tablet at a time; simply remove the detachable keyboard. Before the full keyboard is a touchpad that occupies almost one third of the palm rest. In tablet mode, is designed to make it easy to hold with one hand. Thanks to the accelerometer, the screen orientation change automatically depending on the position is placed. The LCD screen manufactured with IPS technology has a wide aspect, and has a diagonal of 10 inches (24.5 centimeters). It is sensitive to touches with ten fingers simultaneously and offers a resolution of 1,366 by 768 pixels.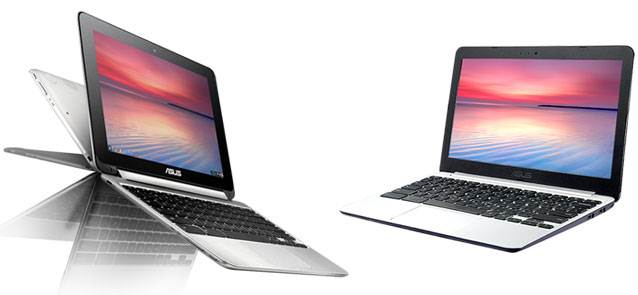 This team of Asus includes a rechargeable battery that provides a range of eight hours, which may be sufficient for an ordinary workday. The Asus Chromebook Flip C100 integrates a quad-core processor Rockchip complete with a RAM of 4 GB or 2 GB, depending on the configuration chosen. It weighs less than a kilo, but that does not stop incorporates extensive connectivity. Includes a slot for SD memory cards type, SDHC and SDXC, digital video output HDMI (with mini connector), three USB 3.0 ports and a headphone output. On the other hand, Wi-Fi supports 802.11n specifications 80211ac. The wireless communication capabilities complete with Bluetooth 4.0, which is the latest version.
 Comes preinstalled with the Chrome OS, which is optimized for use on touch screen devices and allows handwriting on a virtual keyboard. Other notable features include voice recognition and integration with the search engine voice Google Now. Will have to wait until June for the Asus Chromebook Flip C100 reach the first stores; the retail price advertised amounts to $ 250 (about 240 euros).
Asus Chromebook Flip – convertible PC with Chrome OS
updated:
April 1, 2015
author: