The Alcatel Company continues to expand the family Pixi devices. A range that seeks to provide connectivity adjusted current budget each user, providing several options for screen size. Something that included only smartphones, but has now moved to the tablet market. Thus already it has three devices Alcatel Onetouch Pixi 3 large: 7, 8 and 10 inches. The latter being the latest and most updated components such as its operating system version Android 5.0 Lollipop, its 5 megapixel camera and 4,060 mAh battery terminal. We analyze all these tablets together below.
 Display and Design
Since then the screen is a key component in these new Pixi family members, may find different panels according to user preferences.
 On one side is the tablet Alcatel Onetouch Pixi 3 (7) 7 inches in size on a TFT panel that is capable of displaying images at a maximum resolution of 1024 x 600 pixels. Which is not reach the HD standard. Moreover, its density is 170 pixels per inch, which does not provide a viewing quality.
 Then there's Alcatel Onetouch Pixi 3 (8) of 8 inches diagonally. This screen is also TFT but reaching a resolution of 1280 x 800 pixels, slightly surpassing the HD (WXGA) quality and offering a density of 189 pixels per inch.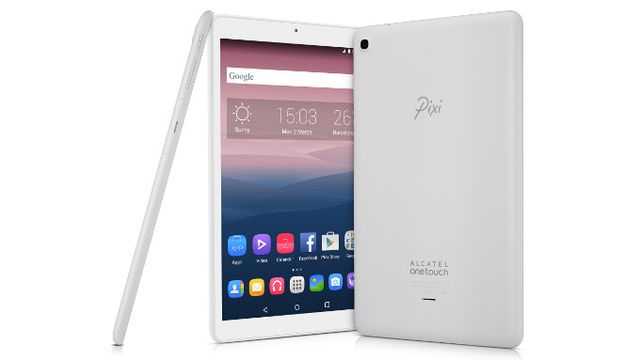 The most recent, the Alcatel Onetouch Pixi 3 (10), however, bet size of 10.1 inches diagonally in an IPS screen, allowing a better viewing angle. Its resolution remains at 1280 x 800 pixels, or WXGA.
 In terms of design, the three models of Alcatel Onetouch Pixi 3 have very similar lines, betting on simplicity. Thus, in its polycarbonate body can see straight lines are rounded at the corners and edges of the back cover, providing a comfortable grip. All without lines to mark elements in any of their faces, beyond the power and volume buttons in the upper right side, and alternating the opening speaker on the back cover from the top and the bottom in the different models. Yes it is noteworthy that, in the Alcatel Onetouch Pixi 3 (7) the user has the ability to toggle the back cover colors like pink, blue or red, white beyond that comes by default. All this considering that there are two general colors for each model in white and black.
 In terms of size and weight, the Pixi 3 (7) has a body 191 x 109 x 9.2 mm and 260 grams. Meanwhile, the 8-inch version measuring 209 x 124 x 9.2 mm and weighs 335 grams. Finally, the Pixi 3 (10), it has dimensions of 255.5 x 155 x 9.5 mm.
 Cameras and multimedia
 Alcatel has not opted for a strong multimedia component in these tablets Pixi, perhaps cutting the cost to meet basic needs of any user. Thus we find different models cameras 7, 8 and 10.1 inches.
 For the Pixi 3 (7) and Pixi 3 (8), both tablets have a main purpose of only two megapixels, achieving catches exceeding HD standard, although no visual fanfare. In addition, the camera has VGA resolution selfies.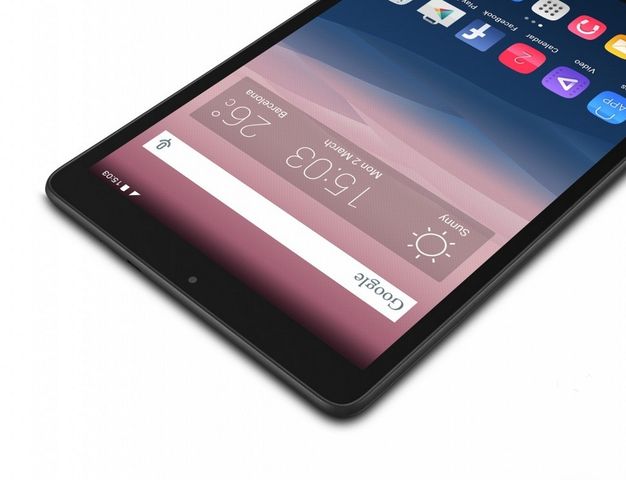 For its part, the Pixi 3 (10) is better to have a 5 megapixel sensor, achieving catches 2592 х 1944 pixels resolution. Meanwhile, the front camera is 2 megapixels.
 The sound effect not noted in any of these three tablets, offering the qualities that every intelligent device must have, you can play a large collection of audio formats, in addition to a speaker and audio output jack 3.5 mm.
 Power and memory
 Under the hood of these three tablets some differences are also illustrated. These devices range input, so play effectively without a great power. All understood that variations in the case of processors depending on the version selected connectivity.
 In the Pixi 3 (7), we find a MediaTek MT8127 or Snapdragon 210 (4G version) processor, which works with four cores capable of correar 1.3 Ghz speed. In addition, if accompanies 512MB 1GB (4G) of RAM for smooth operation.
 For its part, the Pixi 3 (8) opts for a MediaTek MT8312 processor with only two cores running at 1.3 GHz. Unlike the smaller version, with 1 GB of RAM.
 Finally, the Pixi 3 (10) brings within MediaTek MT8311 processor, which also has two cores running at 1.3 GHz speed. Similarly, only 1 GB of RAM accompanies the brain in this device.
 Regarding storage capacity, smaller versions screen 7 and 8 inches, only provide 4 GB of memory to store all the contents. In the Pixi three 10.1-inch tablets this space is extended to 8 GB. Yes, all of them have a slot for MicroSD cards to expand the storage with up to 32 GB more in the case of tablets Pixi 3 (7) and (8), and up to 64 GB in the case of three Pixi (10).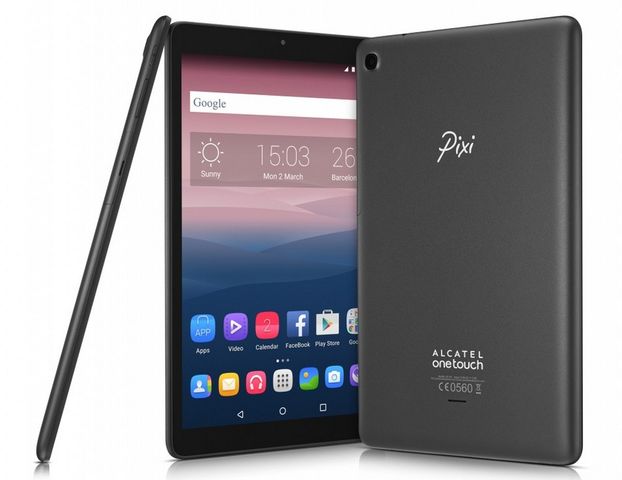 Operating system and applications
 For the operating system, Alcatel commitment to Android, the Google-owned company. Yes, it does in different versions depending on the model of tablet. Thus, the Pixi 3 7-inches and Pixi 3 10.1-inches have Android 5.0 Lollipop in their 4G versions, offering the latest features as custom reports or even the ability to enjoy multiple user accounts in the same device. However, eight inches Pixi 3 remains in Android 4.4, offering good efficiency in its operations, but leaving aside other issues such as the mentioned.
 Regarding applications, you may find all the usual collection of Google tools preinstalled on all three versions of Alcatel tablets. YouTube videos, Hangouts and their messages and video calls, maps Google Maps and a good variety more. Not to mention Google Play Store to download applications, games, books, music or films.
 Note that the data connectivity versions include Internet phone. That is to say, ability to receive calls and talk through these devices, despite its size.
 Connectivity and autonomy
 Regarding the connectivity we must talk about different versions of these devices. And that Alcatel wants to make available the ability to connect to different networks, although it does in different models. Thus, it is possible to find models with wireless connectivity or WiFi only three tablets. In addition, for mobile connectivity there are versions with support for 3G and other 4G or LTE high-speed Internet. All this considering that the GPS is always present in the versions with data connection.
 Other issues such as the Bluetooth connection is sorely lacking, but finding that in tablets 7 and 8 inches without data connection is 4.0, while the rest has version 4.1. They also have microUSB 2.0, MicroSD card slot, WiFi antenna and conventional sensors.
 In the area of autonomy it is also possible to find certain differences, which makes sense to take advantage of different screen sizes. On the one hand the Pixi July 3 inch tablets have a battery of 2,820 mAh. Medium, with 8 inches, opt for a somewhat larger battery capacity of 3,240 mAh. Finally, the Pixi 3 10.1 inch has 4,060 mAh battery.
 Availability and opinions
 Nothing Alcatel has put on sale the smaller tablet. Thus, it is possible to find the Pixi 3 (7) by 69 euros (WiFi only), 89 euros (3G) or 129 euros (4G). The Pixi 3 (8) also has a price of 129 euros. For its part, the Alcatel Onetouch Pixi 3 (10) has just been announced, having to wait even to know its price and cost of sales.
 Ultimately, it comes to tablets input range for users who want a large device and connectivity options, being able to save on your purchase. A good varied family that offers the same power as the high-end tablets, but that covers the basic needs of leisure and work without spending over 200 euros.
Alcatel Onetouch Pixi 3 – review of the budget tablets
updated:
September 7, 2015
author: