On 20 May, Oppo is expected to unveil the R7 and a declination Plus. And although many details have already been revealed the past two months, he still kept a few secrets. A Chinese shop discovers almost all.
It has become very difficult for a Chinese automaker to reach out a totally unknown product. Between steps of certification from Tenaa presales and organized by online shopping, formal presentations are more than mere formalities where the OS, applications and sometimes the prices are the real new information. This is even truer when it comes from one of the most prominent brands such as Oppo.
Next Wednesday, or in two days, it is expected to unveil at least two new models: the R7 and R7 Plus. If the second does not talk about him for a few days only, the first is the subject of repeated leaks for two months now. And the last of them, from the Chinese shop JD.com. This smartphone has all angles and precise throughout the data sheet. So much to take a look.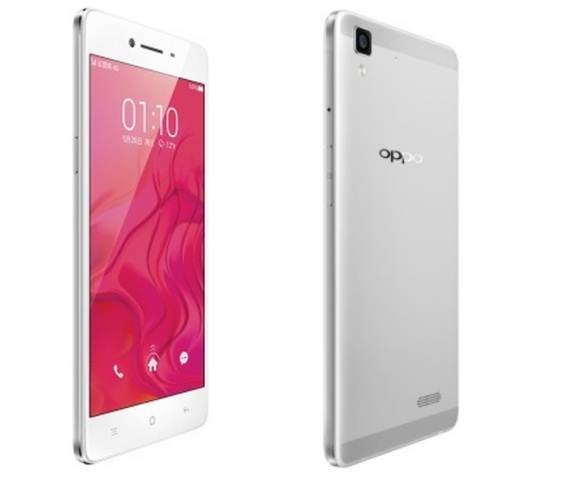 No 4G for Europe
The R7 therefore a smartphone ColorOS (based on Android 4.4) running on an octo-core chipset MediaTek 6752 clocked at 1.7GHz. The mobile is compatible 4G via the TD-LTE standard. Bad news for European consumers since Europe has chosen the FD-LTE … This is not to say that R7 does not succeed the R5, recently released in Europe. But its modem will be updated by then to provide better than 3G.
The R7 has a Full HD AMOLED screen of 5 inches. It includes 3 GB of RAM and 16 GB of internal storage expandable by microSDXC (up to 128 additional GB). The non-removable battery 2320 mAh reached. Picture side, the main sensor is a 13 megapixel model, while the webcam is a 8-megapixel model. The whole is stored in a frame 6.3 mm thick for a total weight of 148 grams.
A copy very close to Huawei and ZTE
Design side precisely, we should find ourselves facing a very similar smartphone ZTE Blade S6, with a shell made of silver-colored aluminum and a white front. The sensor and flash placed in the upper left corner so iPhone and the speaker at their opposite end to create a sense of deja vu strong enough. It remains to know the price of the mobile. JD.com on the R7 is offered at 3000 yuan or 430 euros. The same price as the Blade S6 and Huawei P8: it is no coincidence. Note that Chinese smartphones "premium but low cost" all fall within this price range, so there is no surprise. Confirmation of all its information in two days.
Oppo R7: all its secrets revealed before launch
updated:
May 18, 2015
author: