The Asus ZenPad S 8.0 is a high-end tablet Taiwanese company. This device combines a very thin and light design with a set of specifications frontline, such as a powerful Intel Atom processor quad core RAM 4GB (very few releases reach this figure), internal memory 64 GB and a USB connector type C to take advantage of this new type of connection found in teams like the MacBook Air. All in a 7.9-inch screen with a good resolution and platform Android 5.0 Lollipop. At the moment we have no official release date and price for Europe, but if we take as reference the cost in the United States could be around 300 euros. We have full details on Asus ZenPad S 8.0.
 The new tablet from Asus is committed to a compact 7.9 inches with a resolution of 2,048 x 1,536 pixels. This is a very good to make this tablet in a media player detail. This panel is protected by glass Gorilla Glass 3 for improving its resilience to shocks and scratches. But the points on which you have dearest affect the Taiwanese company's technology to improve its image. So, we True2Life+ technology that analyzes images to enhance the contrast and create a HDR effect in our photos and videos automatically. Moreover, this panel has been constructed so that it has eliminated the gap between the glass and the touch panel. As a result, the reflections that we usually see on the screen are reduced.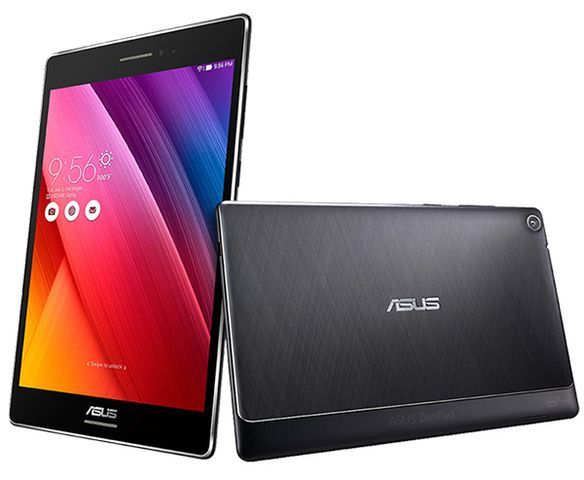 Asus ZenPad S 8.0 has also been specially treated with DTS sound Sound Studio, to create an immersive audio experience. Within the design of the device, they have respected the main lines Zen of Asus design using an elegant drawing metal and brushed into the housing. Furthermore, this team stands out especially for its finesse, just 6.6 millimeters thick. Asus ZenPad S 8.0 is one of the finest models in the market. Along with this thickness we have a weight of 298 grams, which will greatly facilitate its grip and transport.
 Neither the technical section of the terminal slouch. In its core Intel Atom Z3580 found a quad-core processor with a power of 2.3 GHz, which binds to a RAM of 4 GB. This is a great figure to have open a large number of processes simultaneously without a drop in performance occur. The internal storage is 64 GB, an amount that can be extended to another 128 GB through a SDXC card. As mentioned earlier, the chosen operating system is Android 5.0 Lollipop, with a layer of software own Asus (ZenUI).
 Connections include WiFi connectivity to surf the Internet, Bluetooth 4.0 and a USB port type C. This port is used in devices like the latest MacBook Air and can be used with an adapter to connect USB drives or devices such as a mouse or keyboard. Although not its primary purpose, we will have a decent set of cameras with 8 megapixel goal in the rear and 5 megapixels in the front area. The Asus ZenPad S 8.0 is operable continuously to eight hours. At the moment we have no official departure date or price for Europe, although its cost should be around 300 euros.
Asus ZenPad S 8.0 – 8 inch tablet very fine design
updated:
August 18, 2015
author: